Eye care professionals specialize in understanding how the human eye really works, as well as diseases and conditions that affect your vision – many of which do not have obvious symptoms. Eye doctors know how age and risk factors affect vision over time for young and old, and they understand the benefits and features of corrective lenses including eyeglasses and contacts.
Our optometrist takes the time to explain the results of your eye exam, describe your options and listen to your eye care needs. Because maintaining good eye health is an ongoing partnership, we encourage you to ask questions and share your health information, which could be vital to monitoring, diagnosing and treating potential vision problems.
Meet our doctor: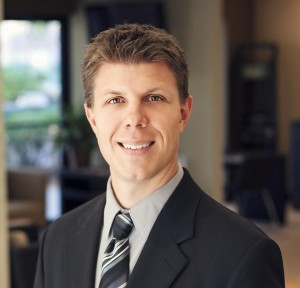 Dr. Noah Wiarda is a primary care optometrist. He earned is doctorate in optometry at the Michigan College of Optometry at Ferris State University. He trained in ocular disease in Jackson, MI, trained in contact lenses and surgical co-management in Famington Hills, MI, and trained in NeuroOpthamology at Michigan State University.
Dr. Wiarda previously owned two offices, one in Greeley and Fort Collins until he transitioned the doctors of LensCrafters in the Foothills Mall into what is now Colorado Optometry in 2009. The new office location opened on College Ave in 2014 and he has been practicing solely at this location since. His specialties are contact lenses and ocular disease management.
He has a wide variety of interests including hiking, mountain biking, snowboarding, snowshoeing and rock climbing.